[vc_row][vc_column width="2/3″][vc_column_text]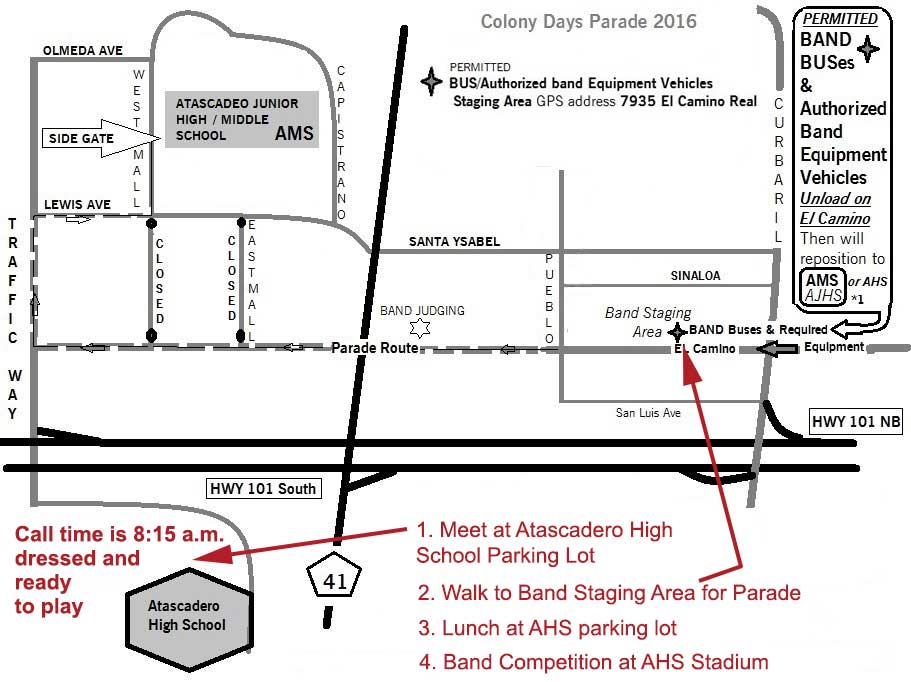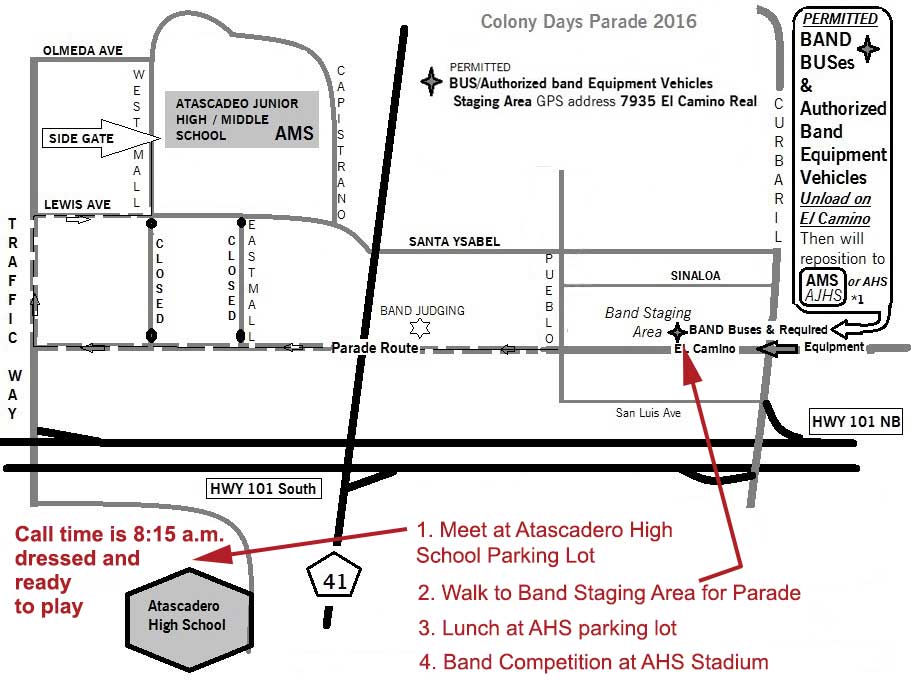 When: Call time 8:15 a.m. in uniform. Many roads will be closing due to the parade by 8:30 a.m., so get there on time.
Where: Atascadero: meet at Atascadero High School Parking lot
What to Wear: Band Uniform, (Black Socks!)
What to bring: Bring a change of clothes, sack lunch or money for lunch.
There will be a bbq on campus. Price $5, Lunch choices include: Hamburger, hot dog or veggie burger with all the fixings, chips, bottled water, and a cookie. Additional hamburgers or hot dogs will be available for $2 each.
Directions to Atascadero High School: Click here for Google Map Directions
Hwy. 101 North take Traffic Way exit and turn left, go under the freeway and turn left. Traffic Way turns into Ardilla Rd. Turn right on Atascadero Road which will lead to the Atascadero H.S. Stadium Parking Lot.
8:30 a.m. We will leave the AHS parking lot with everything we need for the parade/band review and walk to the staging area. The trailer will be there.
10:00 a.m. Parade/Band Review begins. Parade route on El Camino Real.
After the parade, we will go back to AHS parking lot, change out of Uniform and go to upper campus to eat lunch. The trailer will then move to the upper campus.
Students will not be leaving campus to eat lunch, please plan accordingly.
12:00 p.m. Call time at upper campus parking lot. Get back into uniform.
12:15 p.m. Go to stadium with instruments to watch other bands
1:05 p.m. Head down to staging area
1:10 p.m. Staged on track
1:25 p.m. Take the field. Five minute warm up on field (face away from audience) 
1:30 p.m. Perform the show
After performance, do not put instruments away. Go back into the bleachers to watch THS and AHS.
No award ceremony will be conducted.[/vc_column_text][/vc_column][vc_column width="1/3″][vc_cta h2="Note to Parents" color="sandy-brown"]Note to parents: We do not have a bus for this event, it is your responsibility to transport your student to and from the event. Students must make sure their instruments and uniforms, including hats and shoes, are home with them by Friday after school! Pit, drum line, and big instruments must be loaded onto the trailer directly after practice Friday. The band room will not be open on Saturday morning.[/vc_cta][vc_custom_heading text="Order of Performances" google_fonts="font_family:Archivo%20Black%3Aregular|font_style:400%20regular%3A400%3Anormal"][vc_column_text]Times are approximate:
National Anthem by AHS
12:40 p.mm. PRHS
12:55 p.m. RHS
1:10 p.m. AGHS
1:25 p.m. SLOHS
1:40 p.m. THS
1:55 p.m. AHS
No Award Ceremony
After shows, students should load big instruments back on trailer. ALL PERCUSSION, PIT, AND STUDENTS WITH BIG INSTRUMENTS MUST RETURN BACK TO SCHOOL TO HELP UNLOAD.
All other students are released to go home.
[/vc_column_text][/vc_column][/vc_row]