SLOIMBA, a non-profit 501(c)3 charitable organization, seeks to enhance the Marching, Concert, and Jazz Band programs at San Luis Obispo High School and Laguna Middle School through volunteer and fundraising efforts.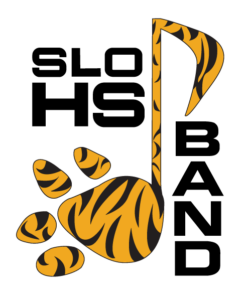 Your donations and sponsorships help SLOIMBA enrich campus and off-site performances, so the SLOHS and Laguna Middle School bands can proudly represent their schools at concerts, parades, football games, and competitions. They also support:
Transportation, travel expenses, and equipment
Band member scholarships for camp and private music lessons
Field Show theme uniforms and equipment
Pre-marching season Band Camp
Encouragement to the young musicians in our community
Fundraising
Fundraising for the SLO High Band is a big responsibility to be shared by all band families. It is necessary to ensure the quality music education and experience our students receive. Contact the Fundraising Chair if you are willing to assist with any fundraiser, or have new ideas or questions: vpfundraising@slotigerband.org.