Become a Volunteer
Please take the time to fulfill the volunteer requirements of our school district. They have four levels of involvement, each one needing the lower requirements completed. Levels 3 and 4 are most flexible, since they can work alone with students without a teacher being present, although there are also many roles for Level 2 and Level 1 volunteers.  Thank you for taking the time to ensure the safety of our students.
Level 1: Application to Volunteer (VIPS) and Codes of Confidentiality and Conduct (3 pages total) plus copy of ID/Driver's License.
Level 2: TB Screening: Obtain Clearance Certificate. (Lasts for four years)
Level 3: Fingerprinting – Any fingerprinting done for the school district since 2000 works. If there is a problem, Principal O'Connor will contact you. Otherwise, assume after a week that you are cleared to volunteer.
Level 4: Driving to School Events, DMV paperwork. See changes below.
Please download and read through the letter and forms.
If you have volunteered at a SLCUSD school previously, please write that on the VIPS with the approximate date of any TB screening and fingerprinting.
TB Screening consists of two questions in an appointment at the Health Department, Med Stop or Doctor's Office.
Fingerprints can only be processed at an appointment at the San Luis County Office of Education.
Returning volunteers: You still need to submit the Application to Volunteer (VIPS form) every year.
Download, fill-out and scan your annual forms. Email to Maggie Mora, SLOHS Attendance Secretary at mmora@slcusd.org. You can fill out the Codes of Confidentiality and Conduct every other year. 
New volunteers and volunteers from another SLCUSD school:
Download and fill-out forms and obtain TB Screening and/or Fingerprint Clearance. Take your paperwork to the SLOHS main office. 
FOR LEVEL 4 volunteers, there are some significant changes for the 2019-2020 school year, so please read this: There is no such thing as DMV H6 Report anymore.  People now have to provide a Driver Record.   They can get it online for $2 and print it out.  If they have trouble printing it, they can capture a screen print to take to the SLOHS office.
New Level 4:  Follow the directions on the packet for Driver Requirements and fill out the three provided forms:  Instructions for Transporting, Driver Information Form, Authorization for Release.  Print out your Driver's Record from the DMV Website.  Take all to SLOHS main office.  Provide first page of Insurance, copy of Insurance Card, and copy of Driver's License.
Returning Level 4:  Provide (Email) copy of this year's Insurance Card.  If Driver's License has renewed the last year, provide copy.  If Auto Insurance company has changed, provide first page of Policy.
Please contact the Volunteer Coordinator, with any questions at volunteer@slotigerband.org.
Football Game Volunteers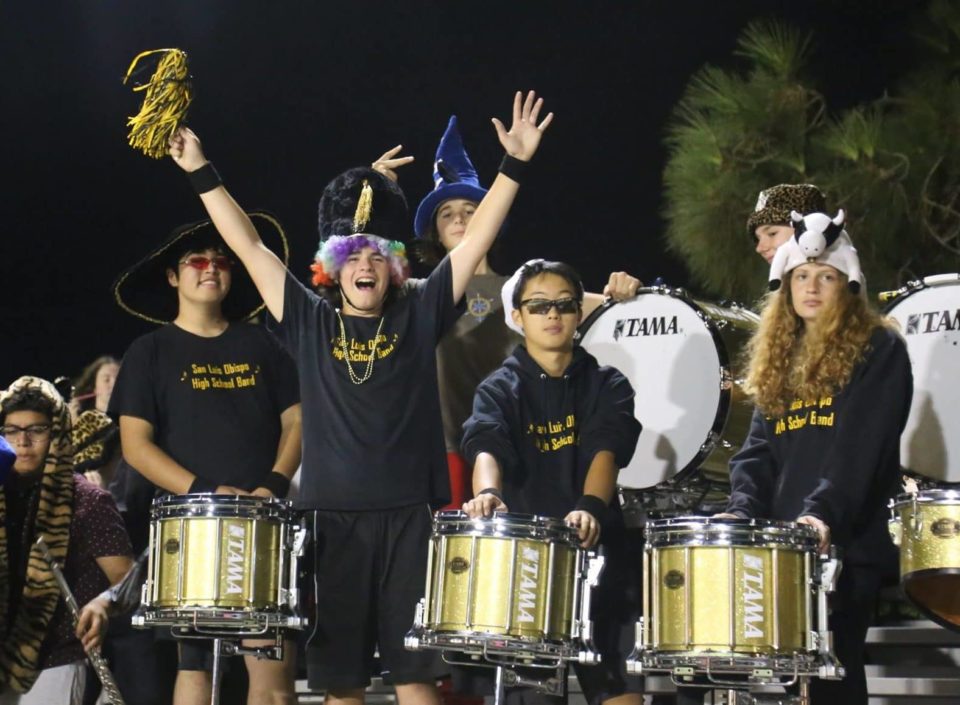 Join the fun, meet other band parents, and be a part of your student's band world!
Become a volunteer and sign-up on Charms for specific jobs.
All volunteers meet the Volunteer coordinator outside Stadium Entrance to get game pass.  See Charms for your start time, as things can change at each game.
Pit & Bleacher crew meet at Band Shed (Shipping Container) to the left of the stands by the track.
Uniform Support Crew – 4 Volunteers (Level 3)
Help students with uniform needs before the game, half-time and one or two volunteers after the game.
Meet at the Band Room before Call Time.
Place racks in both rooms for ease of changing. Racks are unbuilt, in the band closet.
(1 person) Place a table outside for plumes. Get boxes of plumes from band closet and put on gloves.  Attach feather plumes to hats.
(1 person) Set-up wagon outside to haul flip folders. Place milk crates in wagon and wait outside the door.  Give reminders to place flip folders there.  Many students will toss them in as they're running out to get into the block.  Pull wagon to stands before students sit down.  Place crates into stands.  Students leave flip folders on stands at halftime but should take their own back to the band room at the end.  Return wagon and left behind folders to band room after game.
Help secure hair and hats. Attend uniform needs such as broken shoe laces, lost buttons, shoe wipes, black socks, and hair supplies.
After students walk to field, clean-up uniform support supplies. Place Crazy Hat boxes on the band room floor.  Lock band room.  Go watch game.
After half-time show, be at band room right before they arrive. (Watch from the field?)
Remove feather plumes.
Students will change out of uniforms. Ensure they are hung correctly, especially the pants.  Shoes are cleaned and placed in garment bag.  They return marching hat/box to closet door.
Students must be properly clothed for the stands. No boxer shorts.
After the game and before leaving to Firestone, uniforms must go in a car.
Clean-up uniform support supplies and tables. One late shift helper stays (@9:30) until all students have left.
Photographer – 1 Volunteer (Level 2)
Take close-up pictures of posed students as well as action shots, for families to enjoy.
Photograph band students outside the band room and in block formation.
Take photographs of the pre-game and half-time shows from the field or stands.
Upload pictures to share on the Google Shared Drive "Tiger Media" and SLOHS Band Closed Facebook site.
Bleacher Support Crew – 4 Volunteers (Level 1)
Reserve a section of the stadium stands for the band to sit. Remove ropes after the game.
Meet at the Band Shed (Shipping Container) to the left of the stands by the track.
At Band Shed, load folding wagon with bleacher covers, ropes/black & gold ribbon and two poles.
Also, first aid kit, waters/cups/garbage bags, small banner, caution tape.
When JV game ends, set up barrier rope. Block off area from first aisle to @ 5 feet from Orange section and from front fence up to the last four rows in the back.
Attach seat covers. Leave first row uncovered for percussion instruments.
(On Laguna Band night, will need more rows for percussion, so block must increase in size  in the back. Confirm with drum major.)
Hang band banner at the top of section.
Tie water jugs at the end of every other bleacher with bag of cups/garbage bag attached.
Sit along the edges of the block to keep non-band attendees from sitting in area or walking across roped area.
Students perform before the game then sit down in stands.
Before the end of the half-time show, one parent places Caution tape by ramp on visitor's side to ensure band students walk up ramp and not the dirt hill. They can slip and crush instruments.
During half-time & third quarter – keep others out of empty band area, protect instruments and flip folders left behind.
Post Game – 2 Volunteers – After game ends, remove/fold up bleacher covers, band banner, barrier rope, first aid kit, and water. Place in wagon and return to Band Shed.  Throw away trash.
Pit Crew – 5 Volunteers (Level One)
Help with loading, unloading, and staging band equipment at football games and marching competitions.  The Front Ensemble or Pit consists of the instruments too large to carry onto the front of the field such as marimbas, amplifiers and drum major podiums.
Meet the Pit Crew coordinator at the Band Shed (Shipping Container) to the left of the stands by the track.
Drive golf cart with trailer to/from stadium to place drum major podium for pre-game show and Star Spangled Banner.
At Half-time – help students unload/load equipment on field for performance.
After performance – Drive golf cart pulling trailer with equipment back to loading area, unload equipment and return to Band Shed.  Volunteers park golf cart & trailer inside shed.  Band Shed (Shipping Container) is to the left of the stadium, on the track.
Please sign-up to help at Tuesday Night Rehearsals at 6:45 p.m., which allows the Pit Crew time to practice before football games.
Videographer
Take videotapes of the pre-game show and half-time show, which helps students to make improvements. Must have your own video equipment!
Get a game pass bracelet from the Volunteer coordinator at the Stadium Entrance.
At 6:30 pm, set-up tripod and equipment on the top of the press box.
Record the pre-game (6:45 pm) and half-time show. Used for marching review in class
Upload videos on the weekend to the Google Shared Drive "Tiger Media" for Ms. Jeskey to use in class on Monday.
Band Booster Concessions Table – 2 Volunteers (Level One)
Sell items at the table inside the stadium entrance.  Extend hospitality to visiting band members.  You can still watch the pre-game and half-time shows.  Close up table during the third quarter.
Arrive at 6:15 inside the stadium entrance. You'll work with the concessions coordinator, who may already have set the table up, with items underneath.
Help set-up posters/display. Make sure cash box is ready.
Sell Spirit Beads. We'll have colors for the other teams.
Sell Hoses. Sell Tote bags via flyer, with sample at the table.
Promote fundraising events. Accept donations, offer receipt.
Talk with band alumni. Share our contact info.
Create a presence of strong band supporters at SLOHS.
Extend hospitality to any visiting band members/families.
Take down table during the third quarter.